FUNDED INDUCTION TRAINING
Essential training for staff supporting the Health and Social Care Sector
Essential Training is available for new and experienced staff and volunteers working in adult health and social care.
These courses are fully funded by Skills for Care
We can deliver priority training free of charge during the current period to ensure that you have a skilled and competent workforce.
Our training is delivered as a mix of tutor-led webinars, tutorials and tutor support and eLearning.
To be eligible for the funded training, you will need to
have an ASC-WDS registration number, which you can access via the Skills
for Care website here.
This includes the Care Certificate (with an easier to use Care Certificate self-assessment) this includes the mandatory fifteen standards, as well as assisting and moving and safe handling of medication. 
This includes an introduction to adult social care; role and responsibilities; whistleblowing; equality, diversity and person-centred values; telephone support and communication; pain and discomfort; infection prevention and control; food safety; fluids and hydration; health and safety and stress.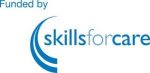 Please fill in the form below and a member of our team will be in contact with you to discuss your enquiry
Funded by Skills for Care
Although I have been a manager for some time there are a lot of things which I did not know and only came to know through this course. Everything was useful. This is honestly the best support I have received to help me achieve. The assignments not only helped with my current employment but with also my future goals. Access skills has honestly been the best team of people I have come across in terms of educational support. No matter what circumstances I was going through they were there to support me, and I found this to be the most rewarding course I have ever done as it's made me come out of it knowing I really can do anything I focus on.
My improved skill set and knowledge will enhance my performance and make me an engaging manager. I think the flow of the program was engaging and logical. I thoroughly enjoyed my training. I have improved my skills and knowledge set.
I have learned a lot from completing the course. It has increased my knowledge in areas such as supervisions and performance management. I found all of the course useful. I feel more advice could be given in the booklets for each task. More guidance on how to approach questions. You have been very supportive throughout COVID. Thank you for everything, you have been very flexible. Please thank all the team for me.
My understanding of the sector and its requirements has greatly improved. The course is practical, l was able to implement some things as l progressed. Completing the course has given me confidence, knowledge and a support network. The course is well structured with good content.
Have gained lots of knowledge and how to source advice when needed. Learnt how to critically analyse more efficiently. Can't think of anything, everything was helpful. Particularly enjoyed the workshop/ book sessions, more of those from beginning would have been good. Thank you for all the support and help, especially during the pandemic.
Through working and getting more training to improve myself. Everything on the course has been useful. I practice what I learned on the course at work. The course was right for my needs.
Access Skills as an organisation have become the benchmark for us, the way you communicate, your emails, webinars, social media presence is excellent. We have used your example to develop our own communication. The team at Access Skills are supportive, with an understanding of the needs of learners in the care sector, especially during the Pandemic. We have been supported, offered training using different methods, such as zoom. We have been given extensions with support when the pressures from the Pandemic have become to high. The feedback given to us on every part of the course is outstanding, again encouraging us to progress.