You may be wondering, what is Person-Centred Care? Within the health and social care sector, person-centred care supports individuals to be actively involved in their own care plan and acquisition of the support they need.
Delivering person-centred care should be an essential focus of any care management strategy. It is important to treat each person as an individual rather than just a number. This method of care is about treating an individual with the dignity and respect that they deserve, as well as involving them in every decision about their health and wellbeing.  Here is a guide to delivering excellent person-centred care.
When creating person-centred care plans, it is important to ensure that:
The person is at the centre of all care

Their care planning is done with them and suits/meets their needs, wishes, likes and aspirations

Involves everyone who has an active part to play in meeting the identified needs

The individual should make the decisions related to care, with full information given

The person should be helped to make decisions using the mental capacity act if they lack the capacity to

The parts of person-centred care leading to the service users' wellbeing are totally met and respected

Maintains the person's independence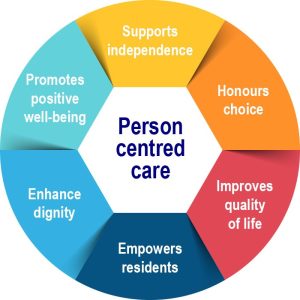 Understanding Person-Centred Values in Health and Social Care
According to the Care Certificate, there are important questions that you need to ask yourself when delivering person-centred care:
Is the plan personalised to the individual?

Does the individual have the space to make choices?

Are the individual's rights being respected?

Does the plan promote the individual's independence?

Is the individual's privacy included in the plan?

Is the individual's dignity valued in their plan?

Does the plan work in partnership with the individual, their family and other workers?
You should not continue with your person-centred care plan until you can answer 'yes' to all of these questions. If you can do this, then you are likely supplying excellent care standards to the individual.
You can enrol on one of Access Skills' health and social care courses to accelerate your understanding of care methods and to gain an understanding of how to plan and approach an individual who requires regular assistance. With full care sector training available from a junior to management level, you will learn the fundamentals of nursing individuals back to full health by using person-centred care and other methods of treatment.
The Benefits to Person-Centred Care
There are many benefits to person-centred care. The individual will feel more motivated and confident when following a care plan that they have taken the lead on. This approach helps them to work towards their own goals and reach their milestones. It helps to meet their emotional, personal and social needs and encourages independence when and where possible, which ensures that the individual feels more comfortable and positive about the care they are receiving, which builds trust. Good quality of care can improve the individual's wellbeing.
Learn How to Deliver Person-Centred Care
Person-centred care is a mandatory unit on our Level 5 Health and Social Care Diploma. If you need further information on this fully-funded Level 5 Diploma in Health and Social Care, contact us today on 0121 510 2169 (option 1) or through the online contact form below.