What is Calendly?
Calendly is our online system for you to book your appointments for observations, professional discussion and tutorials. The system allows you to choose a date and time that is suitable for you. This is easily accessible and means you can book appointments with your tutor at a time that is convenient for you both, reducing the admin back and forth.
Over the past two months, we have started using Calendly as our main booking system for all professional discussions, tutorials, and observations, and we believe that it is a game changer for our learners. Calendly gives the learner control of their appointments, and gives them the option to book, reschedule, and cancel appointments if needed.
With this system, it is preferable that the learner reschedules their appointments with our Learner Support team, rather than cancel them, as we encourage continuous connection with our learners. If you do need to cancel your scheduled appointment for any particular reason, please make sure that you provide us with a valid reason for your cancellation so we can understand your situation and provide you with appropriate support. Should you need to reschedule or rebook, you must give 48 hours' notice, this should only be if there is an emergency and the appointment cannot go ahead.
How do I use Calendly?
When you are due to have a professional discussion, tutorial, or observation with a member of our Learner Support team, a link will be sent to your email for you to access that team member's specific Calendly.
Top Tip: The link that is sent out to you by our tutor or assessor can be saved to your bookmarks as it is a live link and allows you to access our Calendly booking system at any time!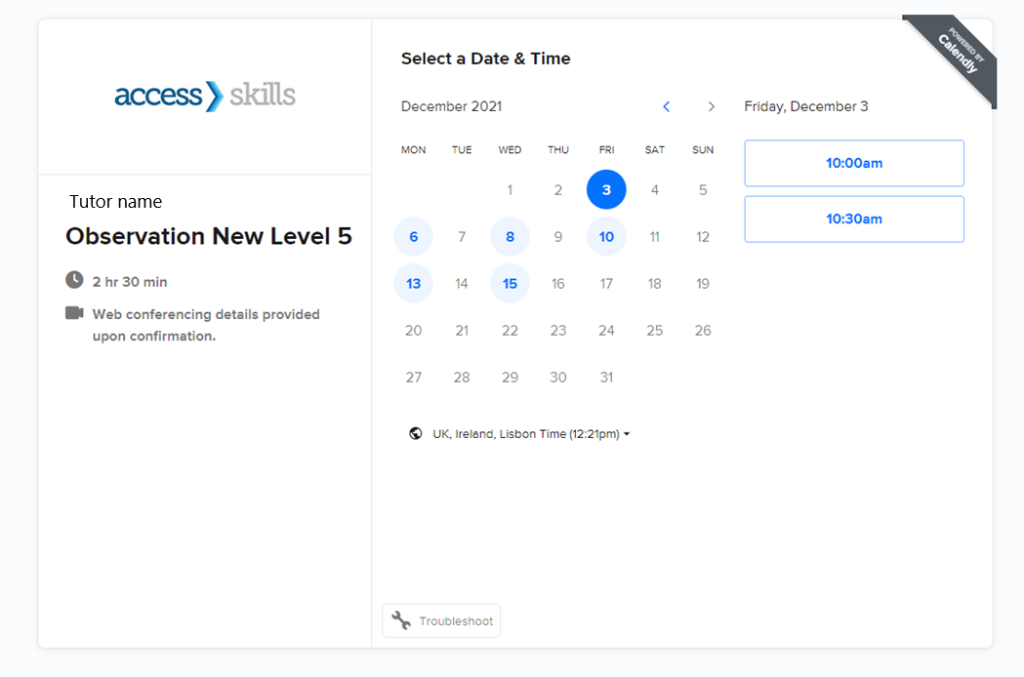 This link will take you to the tutor or assessor's available slots, and allow you to select the date and time that is most appropriate to you. You will then be sent a confirmation email of this appointment, and it can be saved to your digital calendar. This appointment is also saved to the tutor or assessor's digital calendar. If you find that there are no dates available within the month that you are currently viewing, you can click the arrow to the right of the month and it will provide more dates.
It is important to ensure that you have entered your full name and email address. There is also a box for you to share anything to help with preparation for your meeting, for example, you may want to ask the assessor to call on a specific number or allow time for you to answer the phone.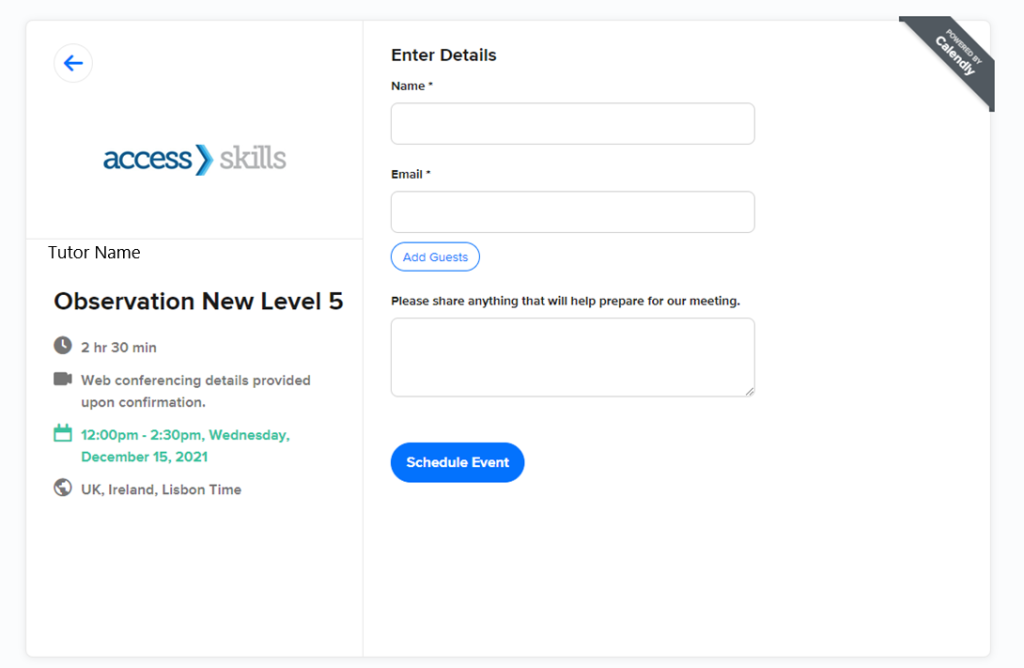 Please see the below video to understand how to schedule a Calendly appointment:
If you find that there are no appointment slots available but you do need to speak to a member of our Learner Support team, please contact them on 0121 510 2169 (option 2) or email learnersupport@accessskills.co.uk and we will assist you.